Main
» Entries archive
---
At Last Turkojen is here. My name is Rahul Tyagi and yup i love this tool. Great spying tool for windows platform. Hope now you can spy on your employees,your children what they are doing " REMOTELY". So enjoy the tool and please give your comments about this software.

Features :
------------
Reverse Connection
Remote Desktop(very fast)
Webcam Streaming(very fast)
Audio Streaming
Thumbnail viewer
Remote passwords
MSN Sniffer
Remote Shell
Web-Site Blocking
...
Read more »

The cyber crime cell here is investigating hacking of the website of the Chandigarh Housing Board (CHB), police said here Sunday.
The website was hacked Saturday and its homepage was replaced with www.pakhaxors.com. It displayed a Pakistan national flag and objectionable language for the Chandigarh administration. CHB Sunday closed down its website and put it under maintenance.
'This is a serious issue and we have lodged a complaint with the authorities concerned. However, all our data is safe. We had a backup option,' Chandigarh housing-cum-finan

...

Read more »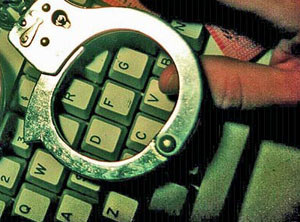 A 40-year-old man who had sent e-mail threats to a city hotel in his wife's name, in order to create trouble for her, was arrested by the cyber cell of the Pune police on Thursday.

Sunil Suresh Nayak alias Suresh Dholkya (40) was nabbed in Bangalore by a police team led by deputy commissioner of police (cyber cell) Rajendra Dahale.

Speaking to reporters, Dahale said that Nayak had sent two e-mails to the hotel on June 1 and in them he had threatened to blow up the hotel on June 2. He also told the hotel to pay Rs 2.5 crore through a bank demand draft and gave his wife's address so that the payment could be made. "We received a complaint on June 1 from the hotel authorities," Dahale said.

The police contacted the networking website to find out where the e-mail had come fr

...

Read more »
Researchers have devised a way to monitor BitTorrent users over long stretches of time, a feat that allows them to map the internet addresses of individuals and track the content they are sending and receiving.
In a paper presented earlier this week at the Usenix Workshop on Large-Scale Exploits and Emergent Threats, the researchers demonstrated how they used the technique to continuously spy on BitTorrent users for 103 days. They collected 148 million IP addresses and identified 2 billion copies of downloads, many of them copyrighted.
... Read more »
London, April 27 (ANI): Sony is finally killing off the floppy disk.
The Japanese electronics manufacturer, that sold over 12 million of the devices, has made it clear that it will stop making floppy disks from next year, leaving no manufacturer in the market, reports The Telegraph.
"It's amazing to think anyone still uses them, but they are popular still in Japan and India. The last time I used one was when I was at school," said Kat Hannaford, the technology websites G ... Read more »
1) Convey your friend a lil' message and shut down his / her computer:



Type :


@echo off
msg * I don't like you
shutdown -c "Error! You are too ******!" -s


Save
it as "
Anything.BAT
" in All Files and send it.


...
Read more »
These days as we know purchasing any storage media is not a big deal for a common man now. But still many from us especially like me don't trust ... Read more »
Computers and the Internet have
become ways of life for almost every American. It is a part of nearly every facet of our modern lives. Small mom and pop businesses to giant corporations rely on it daily. The mere inkling that a fifteen-year-old with the right knowledge and tools has the power to disrupt this transference of knowledge on a scale grand is simply mind boggling.
The thrill of power
Yet that is the very idea that drives many hackers. The id ... Read more »