Main
»
2010
»
March
» 28
---
This is the latest news i want to share with you. Today i received a call from one student in Punjab. The news he gave me is not acceptable at first sight but he was true. He told me that he had hacked into a University Website (I Will not name here the UNIVERSITY). He hacked it through SQL INJECTION STRING.


Now after hacking into the website.He was worried that what will be the reaction of cyber crime investigators when they traced him out.

Well hacking into any website without their permission i

...

Read more »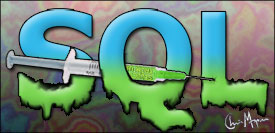 SQL injection vulnerabilities have been described as one of the most serious threats for Web applications. Web applications that are vulnerable to SQL injection may allow an attacker to gain complete access to their underlying databases.
Because these databases often contain sensitive consumer or user information, the resulting security violations can include identity theft, loss of confidential information, and fraud. In some cases, attackers can even use an SQL injection vulnerability to take control of and corrupt the system that hosts the Web application.
SQL injection refers to a class of code-injection attacks in which data provided by the user is included in an SQL query in such a way that part of the user's input is treated as
SQL code.By lever-aging these vulnerabilities, an attacker can submit
...
Read more »